Together, We Can Do It
Imagine a world where everyone, regardless of ability, has the same opportunities to learn, connect, and engage with the world around them. For people with disabilities, accessibility means more than just being able to access a building—it means fully participating in society, learning and growing, connecting with others, and pursuing their dreams. A world where people with disabilities can easily access information and services, just like anyone else. That's the vision behind accessibility—creating a level playing field where everyone can participate and thrive.
So let's come together and embrace accessibility—not just because it's the right thing to do, but because it's the key to creating a more inclusive, equitable, and just society for all.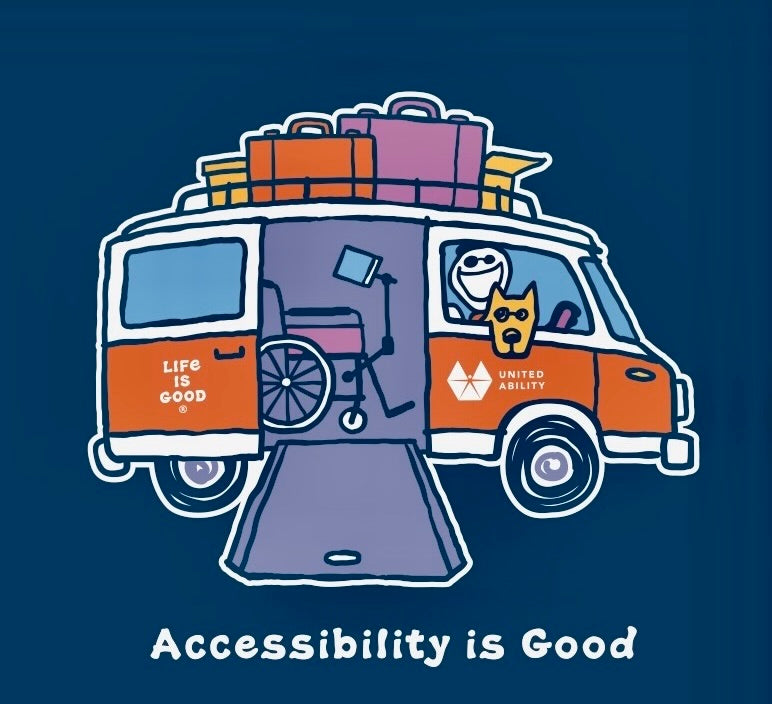 Let's Ride With Jake and Rocket
We partnered with our friends at Life is Good® to create a special shirt exclusively for us as we celebrate 75 YEARS of advocating for accessibility for all. Join Jake and Rocket, and the United Ability family and get your shirts today. It takes a community—in addition to Life is Good®, BioTech Limb & Brace is again our presenting sponsor and new this year, the shirts will be available at all Alabama Outdoors stores.
Join Us May, 5 for United Ability Day
Join Jake and Rocket, and together we will share the message that Accessibility is Good! 
Soft, comfy, and made to last. The Life is Good® Crusher Tees are made for all-day comfort with a feels-like-you-had-it forever fit.
Solid Colors: 100% USA Grown Cotton
2022 Inclusion Equals Empowerment